We were lucky enough a couple of weeks ago, to have a few blank spots in a row on the calendar. We took the time to pack up and haul our butts to the Cornhusker state so Jackson could meet his Grandparents. A short trip to Austin last month proved to us that we could travel, but that traveling light was no longer an option. I dug out our biggest suitcase and loaded it up with nebulizers, sanitizers, tubing, masks, alcohol wipes, enzymes, spoons, applesauce, clean/dirty baggies for each item to be used in transit, breast pumps, bottles, extra albuterol, a cooler for pulmozyme and milk, and lord knows what else I've forgotten to list. When all was said and done Jackson's gear took up the giant suitcase, his diaper bag, the breast pump bag, and another carry-on of toys and miscellany, and all 3 of our clothes and toiletries snugged neatly into a suitcase half the size.
He took the long hours in the car shockingly well, sleeping much less than I anticipated, and enjoying the scenery just as much as the toys dangling from his car seat handle. His propensity towards sweatiness and love for uber-warm blankets led to diaper-only travel, ultimately dubbing a great part of the trip "Naked in Kansas"
The reception at my folks house was pretty epic. If you can imagine having not met your baby's baby after four months...well, they were that excited. Mike had asked me if we wanted to pack the swing for the trip and I had simply said "Not necessary. He won't be put down long enough." Lo and behold, I was right.
Over the next several days, we were ALL spoiled rotten. Visitors came to us- and although I wanted to see more people, ultimately we were able to limit his exposure, which is good. A trip like that is both exciting and worrisome. But there was still a great turn out of family, and I know more would have come if they could. We were regaled with home-grown, home-canned salsa (that I could've just drunk from the jar, it was so good) Stuffed strawberries, homemade raspberry cheesecake, Dad's breakfast tacos, Mom's chicken spaghetti... I can't plan to eat properly there, but damn, do we eat WELL!! My folks also made sure we got to take NAPS, a directive to which my response was to collapse and remain unconscious for four hours. I'm telling you, that nap turned my whole world around and things have been on the up-and-up ever since. Jackson suddenly decided to double his appetite and sleep through the night, and what's more, he brought that habit back home with him! Everyone got to see firsthand how his treatment regimen works, which tends to go far in the understanding of his disease. Our excitement doubled each time we heard "I didn't expect him to look so...HEALTHY!", and we heard that a LOT!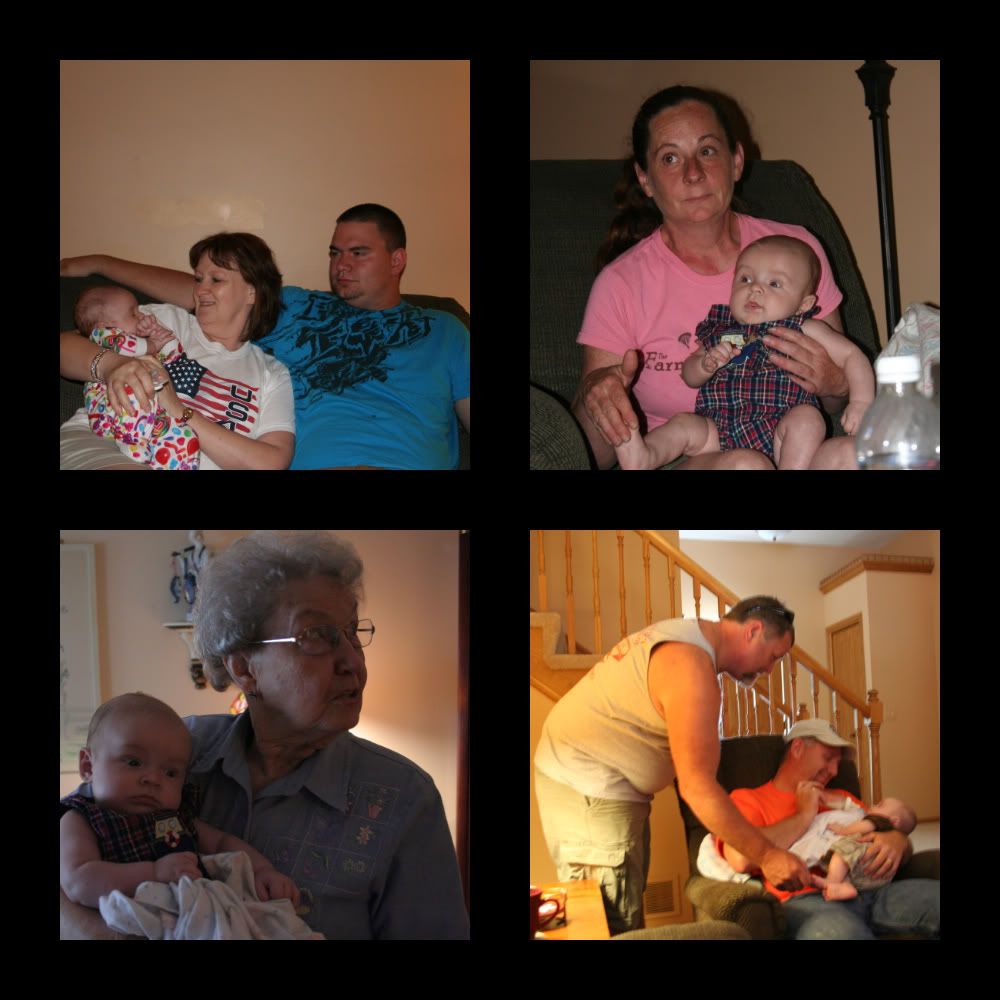 It was the best trip back to see my folks I've ever had. As always, we felt sad, and a little guilty leaving. It's hard knowing it will be months and months before my parents can see the kids again. Mom at least held her tears 'til we were out of view, and we had left little more than the scent of baby on their clothes. Now it's back to blogs and texts and emails and pictures, which make me ever so grateful for technology, but until technology can replicate the warmth and the smell of the top of a baby's head, it's just not quite the same.